Climate resilient transformation of food and livelihood systems is a goal that drives many initiatives. But what actually is transformation? What does it look like in terms of on the ground, practical actions? ​
The challenge
With mounting pressure on countries to cut down carbon emissions at rapid and ambitious rates, much of the focus at COP26 has been around climate mitigation and adaptation. However, there is a third Transformative Approach which was the focus for ACIAR – Australian Centre for International Agricultural Research at their COP26 event.
In the face of ongoing climate disruptions, ACIAR wanted to enable organisations with choices and practical pathways to steer an agricultural system towards transformation. Instead of the standard webinars and expert panels, ACIAR wanted to host an engaging and memorable event at COP26 that stood out from the crowd via a more immersive experience. Given the global and high profile nature of COP26, the event needed to allow for both virtual and in-person attendance and participation and have a maximum gameplay of 30 minutes.
The event was dedicated to agricultural transformation in a climate adaptation context, emphasising practical steps that can be taken to help real people in real livelihood and production systems on a pathway to transformation. Targeted at senior researchers, policy makers and funding organisations working in the agriculture or global development sectors, the challenge was how to effectively communicate scientific concepts about climate change and agricultural transformation in a simple to understand, engaging and memorable format.
The approach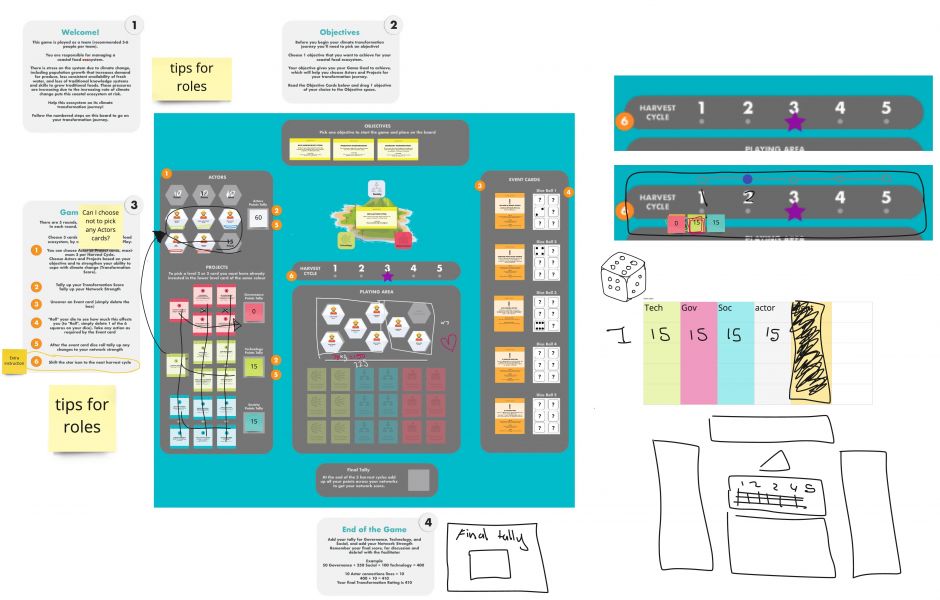 ThinkPlace worked closely with ACIAR over several weeks to develop a gamified event experience. This included reading scientific journal papers on key concepts and conducting interviews with scientists. Using the ThinkPlace gamification design methodology and our world-leading gamification capability, we designed and refined the win state, game mechanics and dynamics, rewards, and theme of the game. We conducted multiple rounds of play testing to refine the game. We also produced accompanying slides and facilitator training.
In a span of six weeks, the ThinkPlace team rapidly engaged with key concepts by researching scientific journal papers and conducting interviews with scientists. Using our expertise in behavioural and social psychology, and our world-leading gamification capability, we then designed and refined the win state, game mechanics and dynamics, rewards, and theme of the game. We conducted multiple rounds of play testing to refine the game and produced accompanying slides and facilitator training.
Equipped with cutting-edge insights from Australian research and innovation in international development, the game participants played in teams to steer a coastal food system through the disruptions of climate change. They had to make practical decisions about how to spend their finite resources across multiple harvest cycles to best build their system's resilience against a series of unknown climate events. Participants could see the consequences of their decisions played out and finish by reflecting on what works – and what doesn't – on the path to climate resilient transformation. ​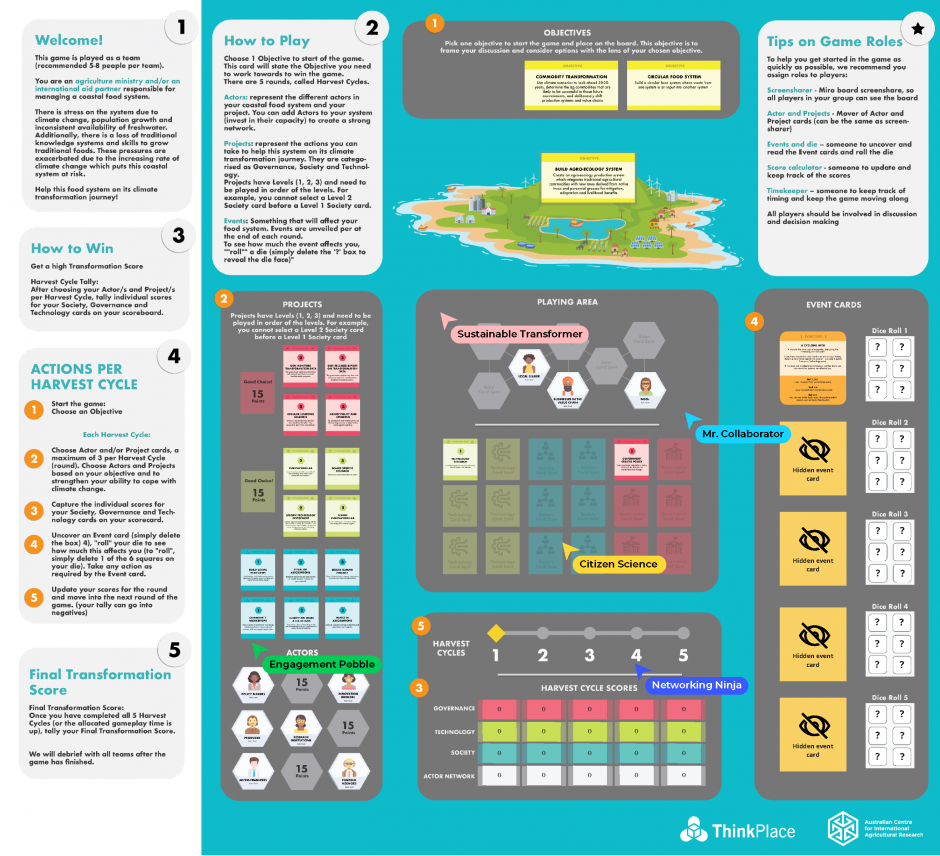 To provoke and inform gameplay the session was kicked off with some inspiration from Dr Veronica Doerr, Research Program Manager for Climate Change at ACIAR, before presenting a showcase of leading Australian innovations in the agricultural transformation space from the following Australian researchers: ​
James Butler, CSIRO ​
Minh Nguyen, CSIRO ​
Michaela Cosijn, CSIRO ​
Dorin Gupta, University of Melbourne ​
Christine King, University of the Sunshine Coast ​
ThinkPlace team members from around the globe then facilitated gameplay sessions. Hosted on large digital whiteboard in teams of 6-8 people, the dynamic and interactive experience provided a unique forum to collaborate, network and dialogue with diverse contemporaries interested in agricultural transformation. ​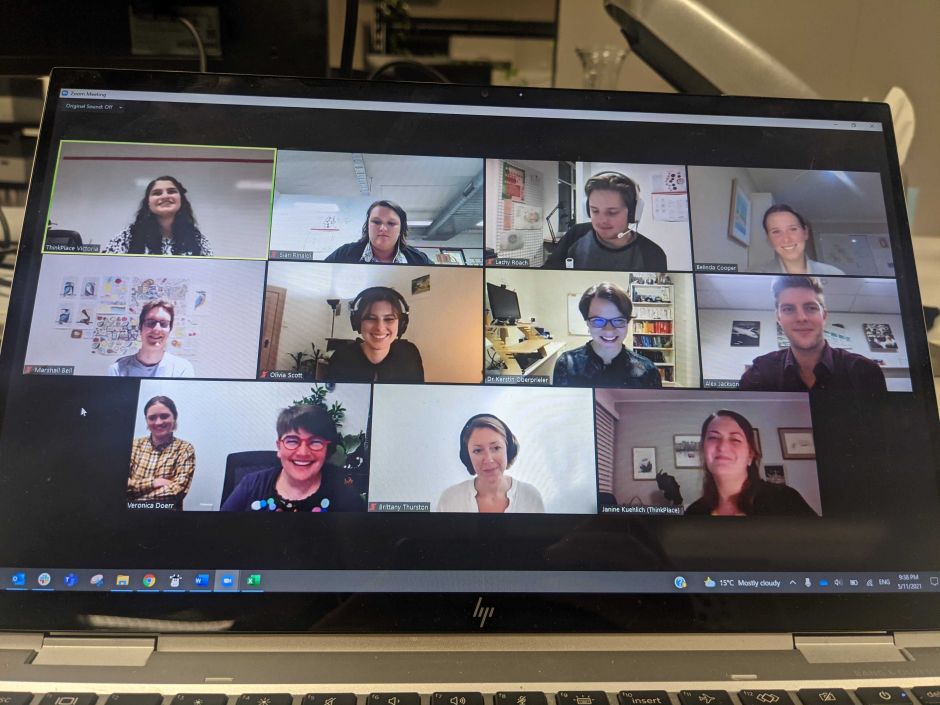 The impact
With over 185 registered participants, the ACIAR COP26 event was successfully delivered with positive feedback from participants all over the world, including Australia, Scotland, Bangladesh, Cambodia, Phillipines, India, Vietnam, Egypt, Myanmar, and Laos.
Through a post-event survey, we learnt that over 90% participants agreed that the gamified experience allowed them to truly understand what transformative approaches looked like in practice. It made us reflect that traditional delivery methods like webinars or panel talks may not have had the same impact.
Some other stats from the post-event survey:
87.5% agreed that the game communicated well what transformative approaches look like in practice.

81.% agreed that the game encouraged them to think a bit differently about their own work.

81.3% agreed that the format of the event was engaging.

100% agreed that they would encourage the continued use of novel ways like this of engaging people in thinking about transformation

93.8% were satisfied with the event overall.
Quotes from participants
"This session did a great job at peeling back the onion that is transformation and what it looks like. It showed what those unexpected events could be that move us forward or back. As we played the game, I could see the research behind the game. The thought leadership that went into it was great, kudos to the team. My deepest thanks for this session."
"(There were) deeper concepts emerging as you are playing."
"I have never played such an engaging game, it was really good and informative!"
"The event got me thinking critically about how can agricultural transform can be made in order to mitigate the impact, also the transformation may take time and resources."
"Informative introduction and fun engagement sessions."
"It is a very memorable experience for me to be able to join, share and collaborate with great minds in ACIAR. Looking forward to working for ACIAR projects soon and help make a significant difference."
"New concept and refreshing!"
"Amazing workshop!"
Want to know more?
Are you interested to know more about this game? Or thinking about designing your own interactive and gamified event?
Get in touch with Kerstin Oberprieler who leads our expert gamification and behavioural design team at ThinkPlace!